Speed Limits
Know the limit, stay within it.
Drive within the limit and at a speed and position that gives you and everyone else a comfort zone. Then, if someone makes a silly mistake you've got time and space to deal with it ­ no problem ­ no fuss.
Ease off and hang back, that way you'll have more chance of spotting the unexpected.
What's the limit?
In a built up area with street lamps the limit is 30mph, unless an alternative speed is displayed, backed up by small reminder signs.

There are no reminder signs in areas with a 30mph speed limit or where the national speed limit applies, so if you are in doubt, drive at a speed that keeps you under 30mph.
Missing a speed limit change is no excuse. It's your responsibility to know the limit and stay within it.
Keep a look out for changes in the speed limit. Here are some typical situations at which a change is likely:
A change in the road layout
On entering or leaving a built up area
Just before or after a junction
Signs and advice
The National Speed Limit
This sign means the National speed Limit
Single Carriageway
Maximum
mph
Dual Carriageway
Maximum
mph
Motorway
Maximum
mph
These limits apply to car, motocycles and car-derived vans

Try 3rd gear in 30 zones.
Sometimes it can be a struggle to stay under 30mph, particularly in modern quiet vehicles, or if you have a big engine. Try using 3rd gear to control your speed. The natural speed of the car in 3rd should keep you around 30mph or below and will reduce the likelihood of you accidentally slipping over the limit.
Know your limits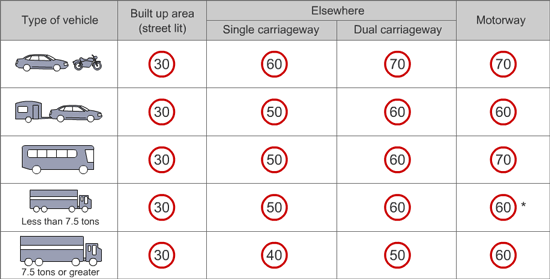 All speeds are shown in miles per hour.
* If not articulated or towing the maximum speed limit is 70mph.
The national speed limit applies to any non-built-up road unless signs show otherwise.